Lee's Deep Mantra Meditation Programme:
In just 20 minutes, you can bring mental calm into your life! This can help you take a more creative approach to your life, along with having a much clearer and calmer mind. Just imagine, you can feel both more relaxed and energized! Also, a great number of health problems can be greatly improved by practicing this kind of Meditation. (Scientific proof available.)
Stress, tension, anxiety and even depression are increasing problems. All of these really respond well to the relaxing and calming therapy that Deep Mantra Meditation provides. This super easy Meditation is the ideal way to overcome these possible challenges. Wouldn't you like to feel more able to concentrate, feel clear-minded, be heaps more energised and feel generally much happier with you?
You can easily fit this Meditation into your busy lifestyle. You do not need any special equipment, a special place, or even a large amount of time. It is not even essential for you to wrap yourself up in the shape of a pretzel! The secret, once you've been taught how, is to just do it regularly! That's right! Just DO IT!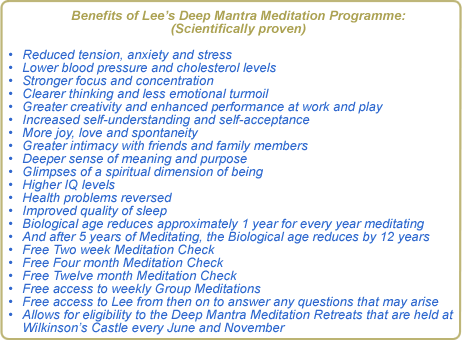 Please contact Lee now for your free introductory session!

Time For You, PO Box 3228, NEW PLYMOUTH, New Zealand
06-753-8988 021-402-200 Email: