The majority of people live their lives aimlessly, battered around like a tiny paper boat on the huge and tumultuous sea of life. They let life happen to them, instead of making life happen.
And when they do plan, most people only take time to plan three major aspects of their lives:
Holidays - I imagine you wouldn't dream of taking time away from work, going away from home, or spending loads of money - if you didn't know when, where and certainly - how much!
Weddings - This is such an important time in people's lives, and it usually takes a minimum of a year to plan!
Funerals - Not the most popular planning-ahead choice, never-the-less, some people feel at ease only once this has been planned for, so they can get on with living the rest of their lives, worry-free. However, do they? Do they live the rest of their lives worry-free? The general answer is NO.
A Quick 'Are You Ready' Questionnaire
No
Yes
Are you ready to create more balance in your life?
Are you ready to improve your personal and/or business relationships?
Are you ready to make real and positive changes in all areas of your life?
Are you ready to find and live your life's purpose?
Are you ready and willing to overcome self-limiting beliefs and behaviours?
Are you ready to create plans and take action to achieve your goals?
Are you ready to achieve a sense of fulfilment at work and in your personal life?
Are you ready for more fun and enjoyment in your life?
Are you ready to benefit from someone who will help you get clear and stay on track?

If you ticked one or more 'Yes' boxes, then you're ready to find out more about Lee's Life Coaching!
You meet with Lee in an environment
that is both private and extremely relaxing,
which actually helps to bring the best out in you!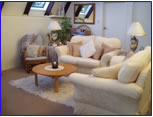 So… doesn't it make sense to contact Lee about getting started on
becoming focused on your whole life,
and not just holidays, weddings and funerals, as above?
Time For You, PO Box 3228, NEW PLYMOUTH, New Zealand
06-753-8988 021-402-200 Email: